Property in Malta
Interview with our latest Franchise Owners
18.10.22 | Michael Paris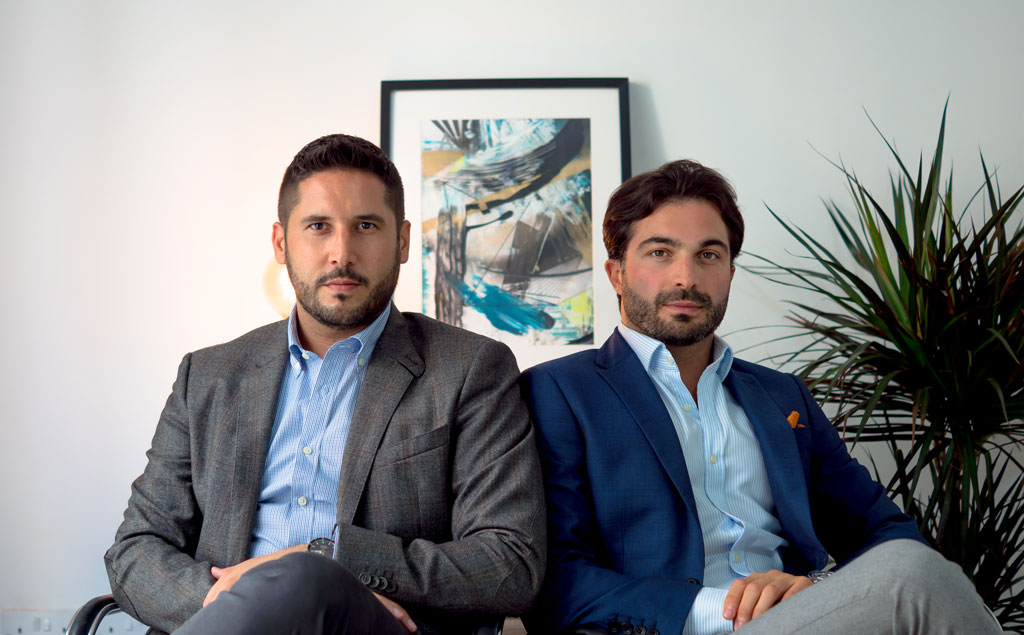 Just over one month has passed since QLC Agent Stefan Milosevic, and agent-come manger, Clint Borg open the doors of QLC Bisazza. The branch, located at Lyon's Range, Level 2, Bisazza Street Sliema, was the brainchild of two of the company's best agents for the last few consecutive years.

Clint joined the company originally as a residential letting agent way back in 2018. He quickly fell in love with Commercial Real Estate Marketing in Malta and used the many skills he had picked up in his previous entrepreneurial endeavors, running a handful of companies in the field of marketing, design, and project management prior to joining the group, to his advantage to better serve both his clientele and property owners alike.
After some time, Clint took the step up to a management position, leading teams of both residential and commercial specialists achieving top three finishes from our 30+ branches, year on year in both markets. Most recently, in 2021, Clint led his commercial team to a record-breaking first-place finish, with a gap of over 80k in sales over second place.
Stefan, on the other hand, joined the company much more recently. Originally having a legal background, he came to Malta after completing his law degree back in his local country, to pursue an opportunity in the construction industry holding an advisory position in one of the local development companies in 2020, just before the pandemic hit our shores.
He grasped the opportunity to operate in the Commercial Real Estate Market in Malta and his rise to the top of the field has been nothing short of meteoric. In just two short years, he has become a household name for many commercial property owners in Malta and boasts a vast array of clientele with many big names on the local market such as Starbucks, Oakberry and Eeetwell, just to name a few. In 2021, Stefan closed a record amount of commercial deals servicing over 25 businesses.
It stands to reason then, that the record-breaking agent and the record-breaking manager have come together to combine their skills and open QLC's new flagship office. Even though only being operational for just over a month, they have climbed the ladder and already broken through the Top Ten Branches of the commercial arm of the QuickLets & Zanzi Homes group. We caught up with the two of them to get their take on what's been going on in the Commercial Real Estate Market in Malta and just to get a bit of insight about what the secret to their success has been, as well as some plans for the future.
What do you think about the current market and how it has changed over the last few years?
Clint Borg
We have seen quite a large shift in the Commercial Real Estate Market in Malta. This was brought on by many factors, like the unforeseen effect of the Covid-19 pandemic on the local economic sector which brought about the downsizing or closure of many businesses from offices to retail and so on, both in Malta and overseas. This also hit prime Commercial locations, such as Sliema, Valletta, Gzira and St. Julians and properties that had been rented for many, many years had suddenly become available all at once.

To react to this, many businesses focused more attention to online operations in a bid to survive. This spike in e-commerce operations significantly increased the demand for storage and distribution facilities, such as factories and warehouses both in Malta and abroad.

Stefan Milosevic
To add to what Clint has said, COVID-19, also resulted in an unprecedented rise in inflation which has impacted all aspects of our lives. As always happens in times of economic turmoil, many opportunities were created for those who survived. Some of the biggest chains and franchises saw the opportunity to increase the number of their stores and around the middle of 2021, the situation started to change. The local economy slowly started to recover, with businesses adapting to the 'New Normal' which can still be seen today with the economic revolution, with the revolutionization of the catering industry in Malta, with many outlets shifting their main focus to deliveries being a prime example.

The demographic situation also had its effect. The local population has been increasing year on year and more people are relocating to the prime areas, such as Sliema, Gzira & St. Julians, which has resulted in an increase in demand for Commercial Premises in these areas.

With Malta's prime income deriving from being a touristic location, the uncertainty brought about by the closure of airports hit the local hospitality industry extremely hard. However, with the Summer of 2022 has just come to pass, we are seeing clear signs of the local industry recovering.

Today, we can safely say that we have a larger demand for commercial properties when compared to the available supply which shows a strong economic situation locally.

How do you service your clients and what benefits would you say clients will get from engaging a consultant such as yourselves?
Clint Borg
Working in the Commercial Real Estate industry in Malta for a number of years has aided me in creating an extensive network, both locally and abroad. This gives us the added advantage to, not only to find the best properties on the market for our clients, but also to help property owners find the right tenants for their commercial property.
We are constantly doing proper research and keeping up to date with the current markets as it is crucial to help guide our clients, be them potential tenants or property owners alike.

QLC has one of the largest commercial property databases on the Island and we are some of the first people to get to know about new properties coming available on the market.

When it comes to negotiating and closing a deal you need the right person. A good agent will do his research, offer solutions, anticipate objections and negotiate the best deal for both his client and owner. The aim is to provide an excellent service in all aspects of the deal process and only an agent with extensive local market expertise would have this information. We have an abundance of experience representing both lessee and lessor so we feel that this is one of our forte's.
Stefan Milosevic
Most of the time, we hear people saying: "He is an agent, he just wants to sell, he only cares about commission!" This is the common conception that is upheld in Malta and I do not blame people for thinking this way!

That being said, we feel that this is also misleading. We are not sales people. We are actually business consultants.

Like lawyers or even dentists, we helping our clients to solve their problems and get
what it is of need for their business. We aid them in finding the perfect property for their business, to grow, to scale, to employ more people, and to get better results, amongst many other things. We help our clients save valuable time and money with the view of making even more money from a new location. We help to negotiate the rental price and terms of the lease agreement to get the best, most fair deal, along with valuable advice about the localities and the local market, amongst many other things.

What sets you apart from the other agents out there?
Clint Borg
Commercial Real Estate in Malta gave me the opportunity to work closely with some of the best local and foreign brands in many different industries, helping them to establish themselves or to expand their operations by acquiring some of the best locations on the Island. Over the years this has helped me to build a good network and to understand what a client requires, communication and negotiation skills.

Having founded various businesses and having worked in the marketing design industry for over 13 years, I have first hand experience of the operations side of a business.
Being an agent is not just about turning up to a viewing and showing some available properties. One must have the knowledge of the market and relevant industry, the ability to connect with and understand all aspects of your clients business concept, and the ability to think outside the box to help find solutions for all parties involved.
Stefan Milosevic
We are part of a very select few agents who focus solely on Commercial Real Estate in Malta. In fact, we have just opened the first flagship office focusing on Commercial Real Estate, both rentals, and sales, in the well-known, QuickLets & Zanzi Homes Group.

Finding new premises for your business does not have to be a hassle, as it is often perceived. We love what we do and we do our utmost to make the experience of finding a new commercial as enjoyable and easy-going as possible.

As Richard Branson said: 'A business has to be involving, it has to be fun, and it has to
exercise your creative instincts.' - We live off this motto!
Where do you see the market heading in the future?
Clint Borg
The future for Commercial Real Estate looks bright. We are seeing companies find new ways and strategies to acquire and retain talent amidst the labour shortage many industries are currently facing. Almost all companies need space to operate from and many of these companies are moving to better spaces and better locations. Demand for industrial space is high, new investment in the hospitality sector is on the rise and most office workers are returning to their desks in person. Although nothing is set in stone for the future of the commercial real estate, I can confidently say that the market will constantly evolve when faced with setbacks and this will ensure the steady growth that we are currently experiencing.

Stefan Milosevic
I believe quality and consistency will always succeed in every field and fair competition is healthy. In the Commercial Real Estate market in Malta, location, quality of the service and product is essential to being successful. The past few years have presented us with many challenges which in turn has made making any kind of long term predictions almost impossible. However, investment in the commercial sector is on the rise and I believe this is due to the strength of the Maltese economy and government initiatives.